SRI LANKA (May,'99) - 1/2
---
1. Go to Sri Lanka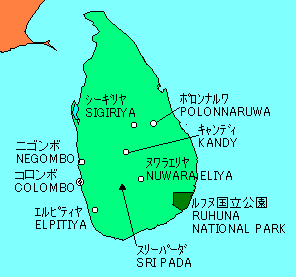 At 1 a.m., I arrived in Sri Lanka. I didn't have reservations, but I took things easy. And I did it. When I passed through the arrival gate, many travel agents surrounded me. I chose one of them and I asked him for accommodation. Then he said "O.K, no problem." But I felt something strange. He was making all the itineraries and schedule for my 2 weeks stay in Sri Lanka. No kidding! I want to go on my own and I don't like a fixed tour. But he was a professional. He explained to me how wonderful his tour was. During the long dealing, I was getting tired. So I decided to join the tour but only the first week. He gave me a better price, and a tourist car, a driver and accommodations were provided. As I finished the negotiation, it was about 4 a.m. My Sri Lanka trip just began.
2. Negombo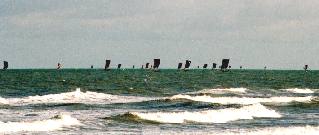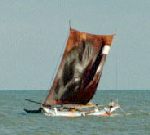 At the first night, No, at the first morning, I stayed at a guesthouse in Negombo. I woke up at 11 a.m. (I missed breakfast.) The guesthouse was on the very beautiful beach. Very unique fishing boats were in the ocean. (Photos are shown above.) When I took a walk on the beach, I happen to meet a local fisherman and made the acquaintance of him. He showed me around, and he invited me to his house. I stayed in Negombo for one more night.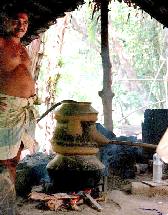 A local distiller in Negombo
3. Cultural Triangle
Next morning, the travel agent whom I met at the airport came to the hotel with a driver. The driver's name was Ryazu. He was driving a tourist car and was taking me to the sightseeing places. First of all, we were heading for the famous Cultural Triangle. The first destination was Sigiriya. Then we went to Polonnaruwa and stayed there. On the next day, we visited interesting ruins in Polonnaruwa, then went Dambulla, and then got to Kandy at night. We were staying in Kandy for 2 days. After that we drove to Nuwara Eliya. Then we enjoyed safari in Ruhuna (Yala) National Park. We stayed a very nice guesthouse in Ruhuna. After the safari, we went back to the west coast, Hikkaduwa. This was last place of this tour. Many guidebooks show the famous sightseeing places, so I write them briefly. But I try to introduce my unique experiences.
Sigiriya Rock( Please click photos. )
"Sigiriya Rock"
1400 years ago, the Royal Palace was on the top of Sigiriya Rock that is about 200 meters high.
Stairs to the top of Sigiriya Rock
"Lion Terrace"
The terrace in the shape of lion's foot.
There was a complete statue long time ago.
"Frescoes-the Sigiriya Maidens"
They are very famous and colorful frescoes, painted at the middle of the Rock.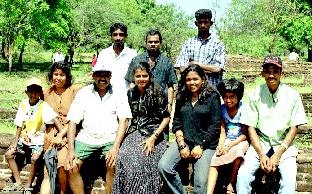 The family I met in Polonnaruwa

There are many interesting ruins remaining in Cultural Triangle. This is worth the visit.
I met a local family in Polonnaruwa. They were traveling their country. We took photos together, giving address each other. At latter part of my travel, I visited them. Regarding that reunion, please read the next page.

Ruins of Polonnaruwa( Please click photos. )
"Gal Vihara"
アーナンダと涅槃像
"Gal Vihara"
座仏像
"Rankot Vihara"
This is a huge costruction.
"Satmahal Prasada"
A seven-storid tower
"The Royal Palace"
"Vatadage"
"Kiri Vihara"
"Thuparama"
"Lankatilaka"
This is huge as well.
---