Holiday in Mexico (Sept. '00)
---
1. Stay in Mexico
I went to Mexico and stayed there from Sept. 1 to 5 in 2000 as a business trip. But on Saturday and Sunday, a mexican friend took me to beautiful places. So I would like to show you them. Please enjoy.
The place where I stayed was Queretaro in Central Highlands, and I visited San Miguel de Allende near Queretaro. They are not popular in Japan. I didn't see any Japanese tourists and I didn't know anything about them before I went there.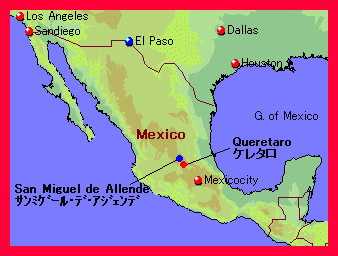 2. Queretaro
Queretaro is located in the northwest of Mexico City, it takes about 2 and half hours by car. It is a very historic city. In 1810, Miguel Hidalgo, Allende and other members attempted a rebellion against Spanish government in Queretaro. On 16 September 1810, they rose in arms in Dolores. Finally they won and declared independence. So September 16 is Independence Day of Mexico. When I was there, Mexican people were preparing for its celebration.
Queretaro was recognized as World Cultural Heritage by UNESCO in 1996.
The celebration of Independence Day starts at night of the 15th. Everybody drinks and scream, "Viva Mexico!", "Liberty and Independence from Spain!". This is called "El Grito". Parties continue until 5 AM of the 16th.
Scenery of Queretaro( Please click photos.)
The suburb of Queretaro
A concert taking place
at a square.
A marimba is seen at the center.
Pena de Bernal, It is 60km east of Queretaro. "Bernal's Rock" is
a remarkable monolith which reaches a height of 520m. Climbing
is okay and I wanted to climb up to the top, but I didn't.
Because I wore sandals.
The view from the halfway up the rock.
A cathedral at Tequisquiapan.
It takes about half hour from Bernal.
3. San Miguel de Allende
They say San Miguel de Allende is one of the most beautiful city in Mexico. It is at the north-northwest of Queretaro. It takes 1 hour from Queretaro by car. Spanish missionary, San Miguel established this town in the 16th century. In 1779, one of the leaders for Independence War, Allende was born there. After independence, people admired him and added his name, Allende to San Miguel. Now it is called San Miguel de Allende.
Regarding Hidalgo and Allende, they were captured by governmental army and were executed before independence. Of course they are national heroes in Mexico.
San Miguel de Allende is famous for art as well. Many types of artistic events take place. And there are many crafts and souvenir shops there.
Scenery of San Miguel de Allende
( Please click photos.)
A view of San Miguel de Allende
from an observatory
La Parroquia de San Miguel.
Beautiful Gothic architecture
Downtown of
San Miguel de Allende
4. National flag of Mexico
According to the legend of natives, God said "Construct the capital city at the place where a eagle is holding a snake in its mouth and is perching on a cactus." So native people found that place and built the ancient city. Now Mexico City is there. The figure on the center describes that legend.
Each 3 colors shows that green is independence, white is religion and red is harmony among all the people.
I saw many Mexican flags flying everywhere.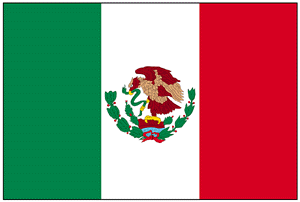 I really enjoyed Mexico. Gracias.
Viva Mexico!!!
---